Sexual abuse is something which should never happen. To be assaulted or raped often devastates the person; they are violated in a most personal manner. When the perpetrator is a minister, it can have a profound effect spiritually. That also holds true when a church member assaults another member and the church tells the individual to keep quiet and allow leadership to handle it. The reputation of the church is more important than them. Many have watched as the priest/minister was allowed to retain their position as if nothing happened.
In all the years I have operated the spiritual abuse website, I have seen how difficult it is for people to open up and share. It is often the deepest, darkest secret they keep, buried under great pain, sorrow, hurt and tears. Some tried to share in the past and were disbelieved, even by parents and siblings. Others were threatened should they dare to speak. Some were falsely accused of doing something which caused their abuse.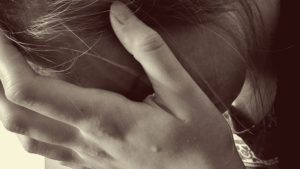 While some try hard to bury what happened to them, it still lurks in the shadows. The past comes back to mind as things happen which trigger the memories and emotions. This happened with a dear friend of mine from my former United Pentecostal Church.
Julie liked it that way. After all, what would it benefit to go back to the past? Didn't everyone just say forget about the past, get a life, or just plain get over it. Even Christians seemed to have the cliche of saying "That's all under the blood." It seemed that we were to just let it all go. But how do we do this? Julie wondered.

Julie tried hard and she had done a good job of it, too, of shoving it so far down within her, to a place where she thought it wouldn't bother her anymore. If it would have just worked and stayed there it would have been fine. But it didn't.

The past always resurfaced. And when it did, it would catch Julie so off-guard, that she could never be sure of how to handle it.

Julie began to ponder within her heart and search her Bible to try to understand more of how God would want her to deal with the past, a past that always seemed to rise up and haunt her- now even more so, with the recurring dreams that she continued to have.

…Julie continued to have the recurring dreams. Each dream that she had would only stir up all of the issues of her past and bring them soaring to the present. …The door part way open. …The villain in the house. She would awake full of terror, often unable to go back to sleep.
I've known Marty Barth for years, but never knew that her father had molested her as a child. That is until I heard about her first book, The Shattering, where she begins her story. I never knew the deep pain and hurt she held inside. She has chosen to openly share about her past in an effort to help others who have been harmed sexually. She now speaks at various functions across America and visits those in prison. Marty is a sweet, loving woman and though we have not seen each other since the year I made the decision to leave the United Pentecostal Church, I am glad to call her friend.
In the sequel to her first book, The Shattering II: Breaking the Silence shares some of the more recent events in Marty's life, including finally opening up to her brothers and sharing what happened, her father becoming ill and her bold confrontation with him as he was dying. Her story shares how she fought to begin healing the deep wounds from her past. While her story has many sad and heartbreaking aspects, it is also one of hope and encouragement.
We have given away books for years as part of the spiritualabuse.org ministry. This is your chance to receive a new copy of The Shattering II: Breaking the Silence. You need not have read the first as this book stands by itself. We have two copies of this to give away. This is only open to those with a USA mailing address. (Unfortunately, it is cost prohibitive to mail books outside of the USA. Canadians with a USA mailing address are welcome to enter.)
This giveaway is a different from our large giveaways as it is a drawing and not a first come, first served event. To enter, just leave a comment on this post to show you wish to be included. The drawing will close on August 2 at 9pm (eastern time), after which I will draw two winners. You will then need to email me your mailing address if I do not already have it. There is absolutely no cost to enter.
Don't be alarmed if your comment does not immediately show as comments require approval when you are commenting for the first time.
We always provide these at no charge to our readers. We want people to be helped and to heal. If anyone would like to help with the expenses involved in providing material to people, you may do so via our 2017 Fundraiser at YouCaring. Donations may also be sent via snail mail to Lois Gibson, P.O. Box 300682, Waterford, MI 48330. So far this year we have spent several hundred dollars on providing material free of charge to our readers. Your help in providing for us to continue in this effort would be greatly appreciated.