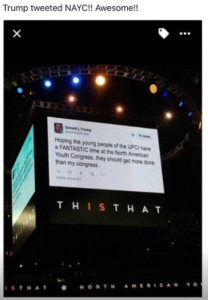 The United Pentecostal Church has been holding its North American Youth Congress Conference in Indianapolis. At the conference, those in charge displayed a fake tweet from President Trump. I have heard that other spoof tweets were also shown. I believe they displayed these to be funny. One person on our Facebook Page stated, "It was from a segment called "Fake News" they parody tweets from different people, it was meant to be funny". Unfortunately, social media being what it is, some are running like crazy, spreading this around.
However, there are members of the UPCI that have run with this picture and believe that Trump really sent a message to the NAYC. Even when some have been told it is fake, they have denied it. A friend of mine was blocked and her notice of it being fake was removed by one young woman named Summer who quickly denied it. Instead of taking the time to check out if it was real, she simply blocked her. Another person posted to it saying they heard it was fake and they stated again, "No it is real." Yet a third person told her, "All the tweets they put up this morning were fake. It was a prank." and she still denied it and then removed those posts. Later, two others commented to her that it was fake and within minutes she had removed them, this time without bothering to comment. One even shared a link that explained it was fake. She is actually in attendance and I guess she didn't pay attention that the tweet wasn't real. How many others in attendance missed it as well?
It is very easy to verify if President Trump actually did tweet this. Go to his twitter page and search for yourself. You will find it nowhere.
Now, I am sure some will say or wonder if it was since removed. (And yes, there it is, someone saying he deleted it and "I assume it was because it was causing a lot of issues…..?") No, it was never there. While you check out his twitter account, take the time to look at how all his tweets are displayed. You will see that Twitter ads a blue check mark after his name to verify that the tweets are actually from his account. When you view the NAYC photo, you will see it is not there.

<<This is a real Trump tweet.
Additional Information: Since initially posting this, I have received some clarification on what happened. This fake tweet, as well as others, was displayed in the early session of the Thursday gathering (July 27). UPC minister LJ Harry was in charge. On the same day, he made a tweet and Facebook post about it, showing it wasn't real. Even then, some were responding as if it were. Some in attendance felt it was made clear that it was posted in jest, while others say it was not. Despite knowing that hundreds of people were passing around the spoof tweet of Trump, thinking it was real, the following morning session displayed similar spoof tweets from celebrities. (That is somewhat interesting in itself as UPCI members are discouraged from watching television and becoming involved in Hollywood activities.) In the early morning session from Friday, it was neither clarified on the screen, nor audibly, that these were all fake, made up by some in charge. They were displayed without explanation. I can only assume that similar happened Thursday, since some in attendance still believe the Trump tweet was authentic.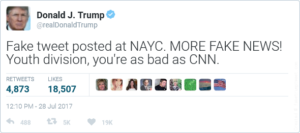 It is quite easy to make fake tweets, even from President Trump, through this website. That one even displays the blue check mark. Here is one generated on that site by a friend. >>
Next edit: Yes, on Friday (July 28) they did read a letter from Vice-President Mike Pence, who was recently the Governor of Indiana (where NAYC is taking place). The volunteer work mentioned was of the 34,000 or so in attendance, about 1700 of them helped at Gleaners Food Bank, packaging up 200,000 meals in one hour. Letters such as this from politicians happen all the time and are often written by staff. Here it is for those who wish to view it. This was a live stream of it being read. It is only partially captures it.
This isn't the first time that people in the UPC have heard or seen something and then run with it without checking to see if it is real and true. I am sure it will not be the last. But perhaps there will be some who were fooled this time who will think twice before passing along messages like this without first seeking verification. It doesn't make you look good when you quickly pass around false reports and even continue to do so after being notified it is not real.