To many of us survivors of an abusive legalistic church environment, and the abuse from male dominant leadership, it can be difficult to trust organized religion and a God that was portrayed as one who was angry and ready to destroy you and send you to hell. It can also be detrimental to our hopes and dreams of having a close relationship with Almighty God.
I was not the good obedient child of God when I was actively involved in the United Pentecostal Church. I was always busy questioning the standards, rules, beliefs and researching and writing papers on my findings, and generally keeping the ministry in turmoil because I was uncovering truth and they knew I would eventually uncover what was being hidden. For example John 3:16; "For God so loved…He gave…" we only heard this scripture at Christmas and in its entirety.
I was one of those statistics who wasn't raised in a home with a father figure full time. My parents were divorced. I saw my father and I loved him very much but when you only spend short periods of time with them it is not enough. My father was a fireman and worked crazy shifts but every time he came to my house he would show me an escape route if there was ever a fire. He remarried when I was 10 to a very nice woman and we developed a sweet relationship. They also blessed me with a little sister when I was 13; we are very close to this day. My dad and stepmom both passed away in 2011 and I still miss them both very much.
My mother remarried two times while I was growing up and they were harsh and abusive men. After the second time my brother and I asked her not to marry again until we were grown. I was 15 and my brother was 10 at that time and she didn't remarry until I was 20. Of course by then she finally found a good man and he would have made a great father. He did become a father to me, even though I was grown, and a good grandfather to my children. They will celebrate 40 years this December and he has helped me through so many bad times and stood by my side. He never had kids of his own but he chose to be my dad and introduces me as his daughter.
One thing I found lacking in the teaching of the UPC was developing relationships of any kind and especially establishing a relationship with God. I was afraid of Him and I thought He was a God of judgement and not love. I would read the Bible and be so confused with the greetings in the epistles to God our Father. But I never knew Him as my Heavenly Father.
How sad that a beautiful facet of God's character was not being explored. He is not a distant, impersonal ruler with an iron fist, but a warm and loving Father. But so often this is tainted by the weakness of human fathers. The foundational truth, God, in all His power and glory, is best understood as a loving, intimate Father. (Source)
Upon closer study of what makes a father, I made a list that shows what a natural or step father should be and correlated with God as a father according to scripture:
1. He is the source of life and creates life. (Genesis 1:27; Luke 1:30-35)
2. He loves us. (I John 4:16; John 3:16)
3. He provides for our needs. (Luke 12:22-32; Philippians 4:19)
4. He lovingly corrects us. (Proverbs 3:11)
5. He gives us His wisdom. (James 3:15-18)
6. He protects. (Psalm 21:8; Deuteronomy 31:8)
7. He welcomes us back. (Luke 15:22-24)
8. He gives good gifts. (Luke 11:9-13)
9. He wants us to enjoy life. (Romans 15:13)
10. He wants us to trust him. (Psalm 62:1-12) (Partial Source)
Many of us expect these attributes from our physical father, and of our husbands when we have our own children. I would say many fathers try to have these attributes but our Heavenly Father has them all, and this is just the tip of the iceberg!
Although God would like our earthly fathers to be the spiritual leaders in our home, most fathers fail at this, either from not being a born again believer or maybe working too much to provide for their families. But our Heavenly Father not only provides spiritual guidance, He can actually become our Father in a very personal way when we are spiritually born again. Romans 8:14 tells us, "For as many as are led by the Spirit of God, these are sons (and daughters) of God." (Source)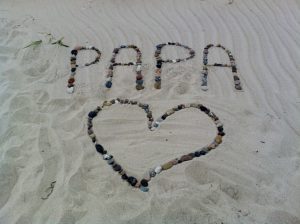 Paul tells us in Romans 8:9, "You are not in the flesh but in the Spirit, if indeed the Spirit of God dwells in you." Of course, we are still flesh, but Paul was speaking of this from God's perspective. We begin our spiritual life as babies (1 Peter 2:2), but we are to grow and mature in Christ until our death or until Christ returns (1 Thessalonians 4:15-17). Through this new life based on God's Spirit living in us, we can begin to not only grasp spiritual truths and values (1 Corinthians 2:9-11), but also have a very personal, close relationship with our Heavenly Father. (Source)
Now I always called my father "daddy" and I called my step father, "dad" but I've never called my Heavenly Father, daddy or dad. But in Romans 8:15, we are now his children through adoption and we are invited to call him "Abba" which means Daddy or Papa.
So this Father's Day we have one more to honor, our Heavenly Father! We are free to say, Happy Father's Day, Papa!!