If you're lucky enough to have been raised in a healthy church and by a healthy family, your first thought when reading the title of this post might be, "obviously." And I'm surprised if you read past the title. For others of us, the title seems drastic. God hates other things, and maybe, just maybe, He doesn't condone abuse… but…
but we deserved it.
but if we'd been better people it wouldn't have happened.
but we have to stay in the marriage because God hates divorce.
but God says "honor your father and mother".
but wives should submit.
but we have to stay in the church.
but we're supposed to forgive and forget.
but if God really wanted it to stop, He'd stop it.
but the spouse/parent/leader didn't really mean it…
Sound familiar? God hates abuse. Not just when it happens to other people, but when it happens to you. He hates what it does, how it makes you feel less than a person, less than others. He created you and he loves you, and that love isn't conditional like people's may be. And he doesn't expect you to stay in a situation that is hurting you or your kids.
You don't deserve to be hurt repeatedly.
You are not responsible for others' bad behavior.
Abusers are abusive because they are bad, not because you are.
You deserve respect and love.
You are valued. You are loved.
If you've been abused, particularly if you've been abused or abuse was permitted by a church, you've heard passages about what you should do, how you should accept whatever happens, how you should forgive. We do not often hear verses against abuse… and if we do, the parts against abuse are quickly glossed over. Did you know (I didn't):
I Tim 3: Therefore an overseer must be above reproach, the husband of one wife, sober-minded, self-controlled, respectable, hospitable, able to teach, not a drunkard, not violent but gentle, not quarrelsome, not a lover of money.
Psalms 11:5 The LORD trieth the righteous: but the wicked and him that loveth violence his soul hateth.
Malachi 2:16-17 "I hate […] a man's covering his wife with violence, as well as with his garment." says the Lord Almighty….
James 1:26 If any man among you seem to be religious, and bridleth not his tongue, but deceiveth his own heart, this man's religion is vain.
1 Cor 13: Love is patient and kind; love does not envy or boast; it is not arrogant or rude. It does not insist on its own way; it is not irritable or resentful; it does not rejoice at wrongdoing, but rejoices with the truth. Love bears all things, believes all things, hopes all things, endures all things.
Eph 4:29 Let no corrupting talk come out of your mouths, but only such as is good for building up, as fits the occasion, that it may give grace to those who hear. 
James 1: 19-20 Know this, my beloved brothers: let every person be quick to hear, slow to speak, slow to anger; for the anger of man does not produce the righteousness of God.
1 Tim 3: But understand this, that in the last days there will come times of difficulty. For people will be lovers of self, lovers of money, proud, arrogant, abusive, disobedient to their parents, ungrateful, unholy, heartless, unappeasable, slanderous, without self-control, brutal, not loving good, treacherous, reckless, swollen with conceit, lovers of pleasure rather than lovers of God, having the appearance of godliness, but denying its power. Avoid such people.
1 Tim 5:8 But if anyone does not provide for his relatives, and especially for members of his household, he has denied the faith and is worse than an unbeliever.
Ex 21:10-11 …he shall not diminish her [his first wife's] food, her clothing, or her marital rights. And if he does not do these three things for her, she shall go out for nothing, without payment of money.
Titus 2:6-8 Likewise, urge the younger men to be self-controlled. Show yourself in all respects to be a model of good works, and in your teaching show integrity, dignity, and sound speech that cannot be condemned, so that an opponent may be put to shame, having nothing evil to say about us.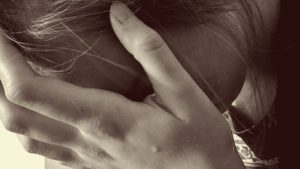 When I was a child, I knew an adult who my parents guessed was being abused by her husband. She often "fell". Bruises on her face and arms were common. They talked about these and other signs in front of us kids, and encouraged us that if we were ever hit by a man who said he loved us, to leave him the first time he did it. That was instilled deeply within me, and though in time, in that particular situation, through a radical conversion experience of her husband, the woman suddenly stopped 'falling', the affect the years of abuse had on her and her children were long lasting.  One married a probable abuser (the signs, again, were there), another became abusive and has been through a number of relationships that ended badly.
However, I saw the verbal and spiritual abuse I dealt with very differently. I blamed myself for what happened. I needed to keep my head down, needed to be a better person, wouldn't be abused if I were a good person. These were the lies I believed, and the ones I repeated to myself until the night when I remembered the battered woman from my childhood and the emphatic statements of my parents that if we were ever hit, to leave. No, I hadn't been physically abused, but weren't the harsh words, the angry responses of my pastor to the mildest requests just as harmful? I didn't leave that night. It took another year, a year of taking OTC medications to get through services, of shaking so badly that I could barely stand if I so much as got a text from the pastor, to leave. It took being called out in a service for simply quoting a verse to someone next to me. And it took realizing that I would have to leave or lie to cover a situation that I was aware of but that the pastor would want kept a secret for me to finally leave.
Nine years later, I still struggle with the affects of that abuse. There are still verses that completely drain me, and it's still difficult for me to believe that God is not OK with abuse, to the point that I've debated changing the title of this post several times because it's difficult for me to say that God hates abuse. But he does. He hates abuse.
And he loves you. He loves me. And he wants much better things for us than what we have received at the hands of evil people who've abused us.
Jer 29:11 For I know what I have planned for you,' says the LORD. 'I have plans to prosper you, not to harm you. I have plans to give you a future filled with hope.