The stage was set, the tones were hushed, – weeping and moaning could be heard – and the sweat was pouring amid the hot summer breeze blowing through the open windows.  We were reaching the climax of another "evangelistic" Sunday night service at my United Pentecostal Church.  The building was small and inadequate for the crowds, as was the air conditioning system.  Our pastor's preaching style was starting slowly with a scripture, a title, and then launching into various Old Testament stories and ending with stories of car wrecks, God's impending judgement on women who didn't follow the rules, and those waiting too late to "pray back through."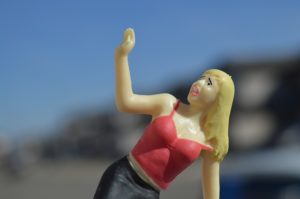 He was a very large, imposing man and he could be very dramatic in his sermons; visually displaying how the devil had his way with Job, as he scraped his sores.  He acted out the stories of Rizpah, shooing away the vultures from the seven slaughtered sons of Saul, staggering back as poor Naomi who would have to be called Mara (meaning bitter) because she went out full and came back empty; no husband, no children, and of course pitiful blind Samson, who didn't even know when God's spirit left him. (This thought would haunt me for the rest of my life.)
All of these sermons were meant to create a sense of urgency in the audience to come rushing to the altar benches in front of the pews at the end of the service to plead with God for mercy one more time.  This scene was repeated each Sunday night in my United Pentecostal Church.  The purpose this served in my life was to make me very fearful of God and not the kind of fear the Bible describes.  As a young girl, the first concepts taught to me about God were that of someone who would only love me if I was good enough.  If not, He would yank the Spirit right out of me or maybe like Samson it would drift out and I wouldn't even know it.  The long term effect of living with this kind of fear in my life is that I have always taken on the guilt of everything.  Every circumstance that comes in to my life causes me to question "is it my fault?"  I even dream up circumstances to blame myself for.  And since our emotions can't think, they tend to stick with you through life despite the facts that you know.
Fear and guilt are used as a means of gaining control over the members of these churches.  You see, these are not the meek and mild ministers you see in movies, they are in total control.  In fact, the churches in the area I am in are not even called by their name but by Brother So and So's church; whoever the pastor is at the time.  You are not to question his authority.  These ministers make up strict behavioral rules for you to obey; how to dress and how to comb your hair.  If you are going to be allowed to participate you must be following the rules.  Those who don't follow the rules are disapproved of and seen as the dreaded "worldly."  We were told what we could listen to, where we could go, and what we could do.  Fear is used to keep people from leaving the church; you are told there is no alternative, if you leave here you will lose your salvation.  It was always stressed that your "church family" is really closer to you than your real family.  Why would you ever leave?
But, is this God's approach to drawing people to Himself?  If God's highest desire is for man's love and obedience, is it won based on fear of punishment?  The answer is no.  God's approach to win man's love and obedience is love.
"…not knowing that the goodness of God leads you to repentance?"   Romans 2:4b NKJV
"For God so loved the world…John 3:16a NKJV
"But God, who is rich in mercy, because of His great love with which He loved us, even when we were dead in trespasses, made us alive together with Christ (by grace you have been saved), and raised us up together, and made us sit together in the heavenly places in Christ Jesus, that in the ages to come He might show the exceeding riches of His grace in His kindness toward us in Christ Jesus."   Ephesians 2:4-7 NKJV
"For the love of Christ compels us…"   II Corinthians 5: 14a NKJV