I worry that I will get caught up in something negative again if I go to church. The fact that I get excited about church, that I want to be involved, that I can throw myself into it so easily and so quickly concerns me. But should I be afraid? Should I be concerned about this? I've been attending a church that I have learned and grown in. I haven't been there long, and I do disagree with several things on some pretty deep levels. But I've grown. For the first time in years, I've found myself praying. I've been interested in reading about theological issues again, sometimes even the Bible. These are good things, at least for someone who wants to believe. And yet I'm scared that I'll get caught up in something there that is not good.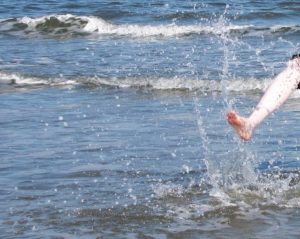 I've been focusing, with church and faith and such, on finding a healthy place. That has evolved into finding a place where things are presented in a way that I agree with. Yet this is actually in itself not healthy. I've looked at churches and tried to find one that was fool-proofed safe. Yet this type of place probably doesn't exist on earth.
Sometimes maybe it's better to stop looking for the perfect place and the perfect people. Maybe it would be better to identify ways to counteract any unhealthy impacts of various things in life than to try to insulate myself from them. Maybe.. yes, it makes sense, but it's not easy to decide to do. Kind of like stepping out into thin air… or onto water. But I think it's time to try.