Do works, work?  Like Johnny Cash singing that old song naming all the places he has gone "I've been everywhere man, I've been everywhere man…"  When it comes to works – I've been there and done that man.  The list goes on and on -bus ministry, visitation, door knocking, cooking meals to raise funds, newsletter, youth ministry and all that entails, and last but not least Sunday school teacher.
I put the most effort into being a Sunday school teacher.  I loved the little children and I felt I could make a difference in their lives.  There was one problem though – our Sunday school rooms were open concept and had huge walls with high ceilings.  We were expected to decorate the walls with various depictions of study material, seasonal items, and such.  As the new kid, I was always trying to "prove" myself to the "old guard."  I would work endlessly trying to fill (and I mean fill) these walls with eye catching, hand painted décor.  I remember staying up all-night long, painting away at these larger than life creations to hang on the walls.  I admit, I wanted recognition for my efforts but it wasn't to be.  Anytime Sunday school was mentioned, all the praise and glory went to the "Old Guard."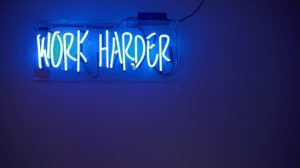 Of course, these weren't the "works" that were preached by my United Pentecostal Church that were necessary for purchasing our ever ready to flee salvation, that is a whole other list of all fleshly actions.  The message was clear: if you were a spiritual Christian, you would be a human doing, not a human being.
What is wrong with all this working?  Faith without works is dead, right?  The problem with works based religion is that it doesn't work.  It only breeds competition, comparing ourselves to one another, conceit, envy, or in my case foolish pride that summed up my motivation for working to the point of burn out.  Paul's words to the Galatian church, who had left grace to be justified by the works of the law, told them they must be careful not to bite and devour each other or they might consume one another!  On top of all this, it's not why Jesus came!  He came to set us free from the Law of Moses that was unable to save.  (Romans 8:2-4)  The idea of obtaining salvation based upon something that concerns a fleshly element – ability to dunk under water, your tongue, or someone else's ability to say exact words over you takes all the power and glory away from God!  He willingly sent His Son to die on the cross for our salvation and asks that we simply trust that it was enough to save us. (Romans 1:16)  Anytime you add some kind of fleshly act (works) to this Gospel that has the power to save, you have turned it into another gospel.  But wait, Paul says there is not another! (Galatians 1:6-8)
This is the big lie of the UPC or any other Bible/works based religion – think Jesus is swell, but not enough to save, add a list of do's and don'ts, and throw a little Bible in there, yeah, just enough to prove your perverted gospel.  To me, it is the greatest form of spiritual abuse.  Keep them ignorant, exclusive, and judgmental.  Make them believe, if they don't keep our list, they'll be lost.
Oh, and what about works?  Where do works that genuinely prove our Faith in Christ alone come in?  The apostle Paul in Ephesians 1:13 puts it like this "In Him you also trusted, after you heard the word of truth, the gospel of your salvation; in whom also, having believed, you were sealed with the Holy Spirit of promise."  When we put our faith in Jesus Christ alone apart from works, we are sealed with the Holy Spirit.  God gives us new life on the inside, the Holy Spirit.  As the seed of God's word is planted in our heart, fruit begins to grow.  This fruit, the fruit of the Spirit, the chief one being love begins to flow out of our heart to do the work that God prepared beforehand for us to do.  A life motivated by love and controlled by truth works!
"For by grace you have been saved through faith, and that not of yourselves; it is the gift of God, not of works, lest anyone should boast.  For we are His workmanship, created in Christ Jesus for good works, which God prepared beforehand that we should walk in them.   Ephesians 2:8-10 NKJV