In searching for a new church after leaving an unhealthy one, people often have questions such as these: Do you think it is OK to attend a church where you don't agree with everything they believe in? Do you think God will fault us if we go to a church where we disagree with some interpretations of the Bible?
Even in the New Testament, we find that everyone didn't always see things the very same way. The Bible speaks to the matter in Ephesians 3:
Be completely humble and gentle; be patient, bearing with one another in love. Make every effort to keep the unity of the Spirit through the bond of peace. ….It was he who gave some to be apostles, some to be prophets, some to be evangelists, and some to be pastors and teachers, to prepare God's people for works of service, so that the body of Christ may be built up until we all reach unity in the faith and in knowledge of the Son of God and become mature, attaining to the whole measure of the fullness of Christ. (verses 2, 3, & 12, 13- NIV)
One thing you will find, if you haven't already, is that as you go forward in your walk with God, some beliefs are going to change or become more defined. This is because we are ever learning and growing. In addition, when one leaves an unhealthy church, there are often numerous faulty teachings that will be shed as you start looking into what was taught. So even if you found a new church soon after leaving, you may find that a few months down the road you are no longer in agreement in some areas.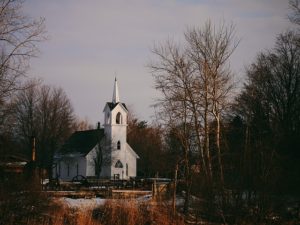 Is it possible to find a church where you are in agreement on every single issue? My guess is probably not. Even while I was in the United Pentecostal Church, I didn't always agree with the pastor on some issues. The ministers within this group do not see eye to eye on everything, thus there are numerous variations of some teachings.
As believers, we are to grow together in the Lord. To me, as long as a church teaches the essentials and isn't into some blatant false teaching, then there isn't anything wrong or potentially harmful with attending, even though you may not be in complete agreement.
Look at it this way. Are you married? Do you and your spouse see eye to eye on every matter? My guess would be no couple does. Should this mean the two of you should not remain together? Certainly not! The same applies to friendships.
There are areas where I personally feel a need to draw a line and this is probably true with most believers. Let me share an example from my own experience. When I moved to another state, I started attending a church that seemed OK. They were tolerant of the beliefs of others. But then there came a time when they began promoting an author who was scheduled to speak at their church. The main pastor proclaimed that he felt this author was a prophet for our time. I believe this author to be in error with things he teaches and believe he is far from a prophet. Making a proclamation that someone is a prophet was no small matter in my eyes after exiting my former church group. In this instance, I felt I had to leave. For someone else, it might not be a problem and they may be able to overlook it.
If you are looking for the perfect church, there is none and never will be. Even the very early Christians had difficulties, disagreements and problems.
For me, what matters are the basics. I wouldn't have to be in agreement with everything in order to attend a church unless it was in a major area. Look for a church which fulfills the passage I quoted above- that prepares God's people for works of service and is helping people to grow and mature and come to unity. A church like that will probably be a healthy one and differences in opinions and beliefs will be allowed.
Leaving An Unhealthy Church #1: You and Those Who Remain
Leaving An Unhealthy Church #2: Anything You Say Can, And Will, Be Used Against You
Leaving An Unhealthy Church #3: Why It May Be Important To Resign Your Membership
Leaving An Unhealthy Church #4: Remaining in the Same Organization
Leaving An Unhealthy Church #5: Don't Listen To The Gossip
Leaving an Unhealthy Church #6: How You Are Treated
Leaving an Unhealthy Church #7: It Happens To Ministers, Too
Leaving an Unhealthy Church #8: The Way Of The Transgressor Is Hard!
Leaving an Unhealthy Church #9: Some Must Return To Remember Why They Left
Leaving An Unhealthy Church #10: Sorting Through The Teachings
Leaving an Unhealthy Church #11: Confusion & Not Knowing Who or What to Believe
Leaving An Unhealthy Church #12: Can I Go To A Church Where I Don't Agree With Everything?