"Signs, signs, everywhere a sign…." Remember this old song? (I took the liberty of adding an s.) In some churches it is all about signs. Seeking signs. Desiring signs. Disappointed if there are no signs. It's not a good service if there are no signs. What is the next sign going to be? I want something more!
This mindset is not good. Jesus and the apostles warn us against desiring and following after signs. Yet despite these warnings, what do we see in some churches but people flocking after the next big sign.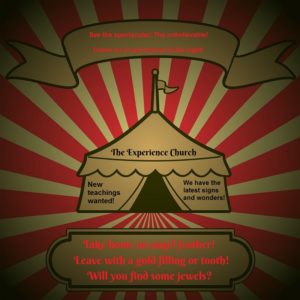 You can hear the circus barker, "Step right up, folks! See the spectacular! The unbelievable! Watch jewels suddenly appear before your eyes! Gold dust fills the air! People fall at the wave of a hand! Come on in and marvel at the sight!"
Gold. It came in the form of dust, fillings and entire teeth. Angel feathers. Jewels. Laughter. Falling out. Oil. Spiritual drunkenness. Slain. The list goes on as people line up and get carried away by every wind.
People are drawn to the spectacular. We want to see amazing things. Why would the people in Jesus' days be reprimanded for seeking signs? This is why we have so many problems in the churches which focus on emotionalism. We want gold fillings. Then gold dust. Then we want to see pulpits broken in half or people shaking uncontrollably in and out of services. There's always a search for more and more, bigger and better.
Who is getting all the attention in these things? Does the focus come on a person or people, the pastor, the church? If God is going to do something miraculous, HE would be getting the glory and the attention, with the result of people turning to Him. In the New Testament, miracles happened to confirm the Gospel being preached and the apostles didn't run after or focus on them.
Oftentimes things like these help fill up someone's wallet, be that the pastor's, evangelist's and/or the church fund. The love of money causes many to do things which they ought not do.
What happens at the places where these things occur? Is all the talk and emphasis now on the "move"? Do they lose a focus of preaching the Gospel? How is their teaching being distorted by these signs? Does the emphasis become that of experiences trumping Scripture? (It has to be true or of God because it happened in church and look how many are at the church! Because it makes me excited and I feel good! I know that isn't in the Bible, but God can do anything, can't He?) The dismissal of Scripture is a serious thing in these "moves." Experience is placed above it and the Bible gets interpreted through the experiences and not the other way around.
What's the fruit of it all? Why would God perform such acts? What does gold teeth or gold dust mean to Him? Does He really focus on these material things? Would he really leave jewels laying around at a church? Really? Where do we see anything similar happening in the biblical accounts of the early Church?
Stop and think about it. Why would God go around indiscriminately distributing gold teeth in people's mouths? It makes no sense. People need emotional healing, physical healing, but hey- they got a gold tooth instead.